Reviews
Reviews:
Countess Charlotte A Little Night Music. Opera North & Leeds Playhouse co-production 2021 & 2022.
"... while Helen Évora's Countess Charlotte had charm to burn, notably in 'Every day a little death'." Opera Magazine.
"... and over to the hilariously stoic Countess Charlotte (Helen Évora) who brilliantly lands every quip...".
alwaystimefortheatre.com ****4 Stars.

"... whilst Helen Évora brought a surprising strength and a nice line in one-liners to his wife Charlotte." Planet Hugill *****5 Stars.
"... and Helen Évora evokes the bitterness and survival instincts of his wife Charlotte." The Stage *****5 Stars.
"There's eye-catching work, too, from Helen Évora as Charlotte, the abused wife of Desiree's current dalliance...". The Times ****4 Stars.

"The Count's jaded and jealous wife is played magnificently by Helen Évora." Yorkshire Tots & Teens.

Justine Orpheus in the Record Shop written by and starring Testament Homecut.
Connecting Voices - Opera North at Leeds Playhouse, and filmed for BBC iPlayer Lights Up.

"Helen Évora's evocative wordless vocals build up the intensity of his tale...". The Reviews Hub ****4 Stars.
Annina Der Rosenkavalier. Opera North revival of David McVicar's award-winning production.
Photo by Robert Workman.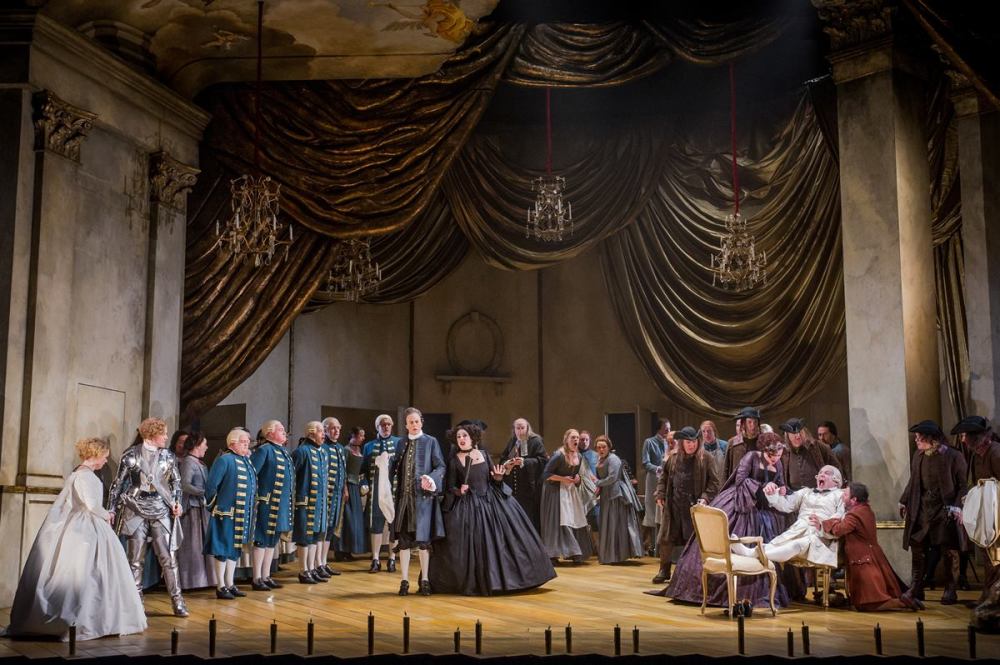 ".... Wonderful cameos from Helen Évora and Aled Hall as Annina and Valzacchi, the mysterious Italians." The Yorkshire Times.

"Helen Évora and Aled Hall as the Italian 'spies' Annina and Valzacchi - white faced and dressed from head to toe in black - are a comic delight." The Ilkley Gazette.

"Helen Évora and Aled Hall were a vivid pair of Italian intriguers, making the most of these gifts of roles." Planet Hugill.
"There are several memorable performances from the supporting cast. Aled Hall and Helen Évora are suitably dastardly as the intriguers Valzacchi and Annina." British Theatre Guide.
"Fine supporting performances come from Helen Évora's balletic Annina...". Bachtrack.
"Even the manipulative Valzacchi and Annina Aled Hall and Helen Évora, are involved and costumed to a perfection matched by their interpretations." Seen and Heard International.
Little Red Riding Hood Into the Woods - Opera North and the West Yorkshire Playhouse, June 2016: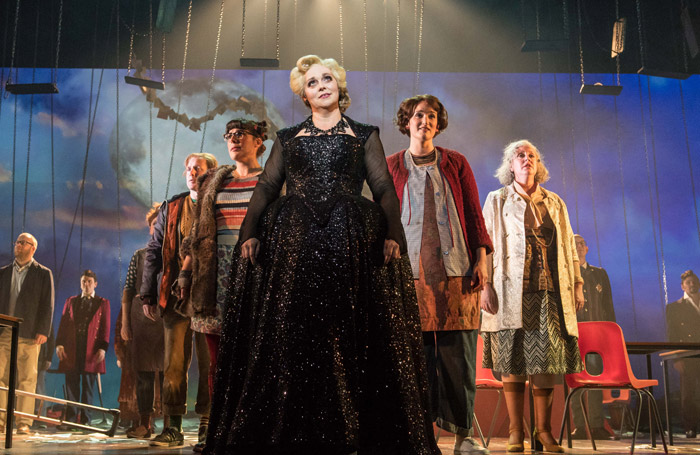 "Helen Évora is a constant delight: sprightly, bespectacled, imperturbable." Opera Magazine.
"Helen Évora as Little Red Riding Hood was a lovely treat...". Keighley News, June 2016.
"Its cast is so good that I wish I had space to list every member by name - instead, just let me take my hat sweepingly off and hail the brilliant team that is Opera North's chorus." **** Rupert Christiansen, The Telegraph.
"The real ace up the production's sleeve, however, is a large ensemble of classically trained voices as equally adept in Rodgers and Gershwin, as in Mozart and Puccini. Opera North's choristers can really act as well.... Helen Évora's not entirely innocent Little Red Riding Hood struts around in a distressed, crimson padded jacket...." ****The Guardian.
"With a cast consisting of Opera North chorus members, the musical qualities are assured. Meanwhile, the polished performances from, among others, Gillene Butterfield, Helen Évora, and Claire Pascoe, conclusively dispel the myth that opera singers cannot act." ****The Express.
"Into the Woods is perfectly cast and the characters are so strong and well written that all the performances stand out, though I do suspect that Helen Évora (Little Red Rding Hood) is having the most fun." The Music Guru Online.

Rosina The Barber of Seville with The Merry Opera Company 2014/15 Winter Tour...
(Photo by Laurent Compagnon)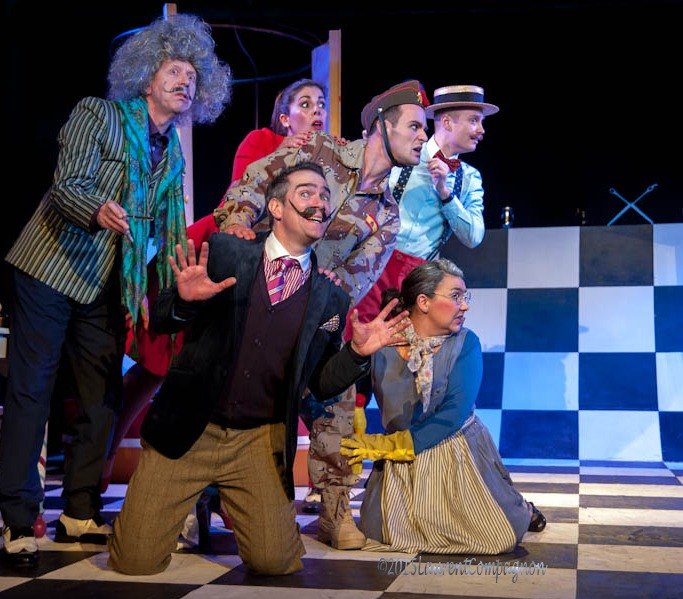 "Helen Évora is a delightfully vivacious Rosina, her very presence lighting up the stage, and her singing is consistently strong and pure." The Oxford Times.

"Helen Évora is excellent as feisty Rosina in femme fatale red.... a sparky show, funny throughout.... a fun, farcical night out for novices and aficonados alike." Great Yarmouth Mercury.

"Helen Évora's Rosina has plenty of charm and strength. With glossy dark hair, flashing eyes and looking very fetching in a red dress she puts me in mind of a young Lynda Bellingham. Her Rosina has "attitude" which comes through loud and clear in all those sung numbers as she encourages Almaviva (Lawrence Olsworth-Peter) and tries to discourage, distract and dupe her predatory guardian." Susan Elkin.
Mezzo Soloist in Opera Naked with Unexpected Opera - Winner of an Argus Angel Award for Artistic Excellence at the Brighton Fringe, May/June 2014...
"Helen Évora demonstrated her fine mezzo voice with Carmen's Habanera..... More comedy came as each singer went through mock auditions and Évora's battle with a diva pianist was priceless.... Full of originality and comic invention... two hours of musical magic plus insight."
The Brighton Argus.

Lady Angela Patience with Charles Court Opera, June 2014...
"Helen Évora and Andrea Tweedale sing-up a storm.... gorgeous, sparkling production." reviewsgate.com

"....magnificent cast...." playstosee.co.uk

"Beautifully sung by Helen Évora, Amy Payne, Andrea Tweedale and Joanna Skillett...."
****theupcoming.co.uk

"This is grown-up, witty, divinely frivolous entertainment at its very best.... Charles Court Opera pulls off yet another triumph...."
*****hamhigh.co.uk
".... Helen Évora registers as the most nearly-rational of the poetic groupies.... they all have excellent singing diction...."
theatreguidelondon.co.uk

Photo by Bill Knight.